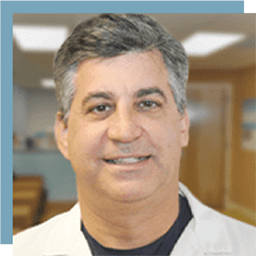 Mark Schwartz
MD, FACS, RPVI
Mark Schwartz, MD, FACS, RPVI, is widely known as the "Long Island Vein Doctor" and is a Health Tap "Top Doc." At North Shore Vein Center, a nationally-recognized center for excellence in New Hyde Park, New York, Dr. Schwartz offers the latest minimally-invasive vein treatments using state-of-the-art equipment like endovenous radiofrequency ablation, endovenous laser ablation and the VeinGogh™ ohmic thermolysis system for spider veins on the legs and in delicate areas of the face.
Dr. Schwartz also treats varicose and spider veins with endovenous radiofrequency ablation, sclerotherapy, and ultrasound-guided sclerotherapy. The procedures are all outpatient, take place in-office, and never require a hospital stay.Dr. Schwartz has more than two decades of clinical experience in vascular surgery and venous disorder treatment.
Dr. Schwartz earned his undergraduate degree with honors at The University of Florida in Gainesville, and his medical degree at The University of South Florida Morsani College of Medicine in Tampa. He earned the Alpha Omega Alpha designation, awarded to only the top tier of medical school graduates.
Dr. Schwartz completed a general surgery residency at Mount Sinai Hospital in New York City, receiving "Outstanding Chief Resident" recognition upon graduation. Then, Dr. Schwartz completed his vascular surgery fellowship, working alongside international leaders in venous disease. He also served as an assistant clinical professor in surgery during his fellowship.
Dr. Schwartz is board-certified in general and vascular surgery by the American Board of Surgery, a diplomate of the American Board of Venous & Lymphatic Medicine, and a member of the American College of Phlebology, and the American Venous Forum, as well as a registered physician in vascular interpretation.
North Shore Vein Center stands apart from other facilities because it is registered with the American College of Phlebotomy, accredited by the Association for Ambulatory Health Care, and holds certification from the American Association for Accreditation of Ambulatory Surgery Facilities, Inc. North Shore Vein Center is the only fully-certified Intersocietal Accreditation Commission (IAC) vein center in Nassau County, Brooklyn, and Queens, and is among the first 50 vein centers in the United States to earn this distinction.