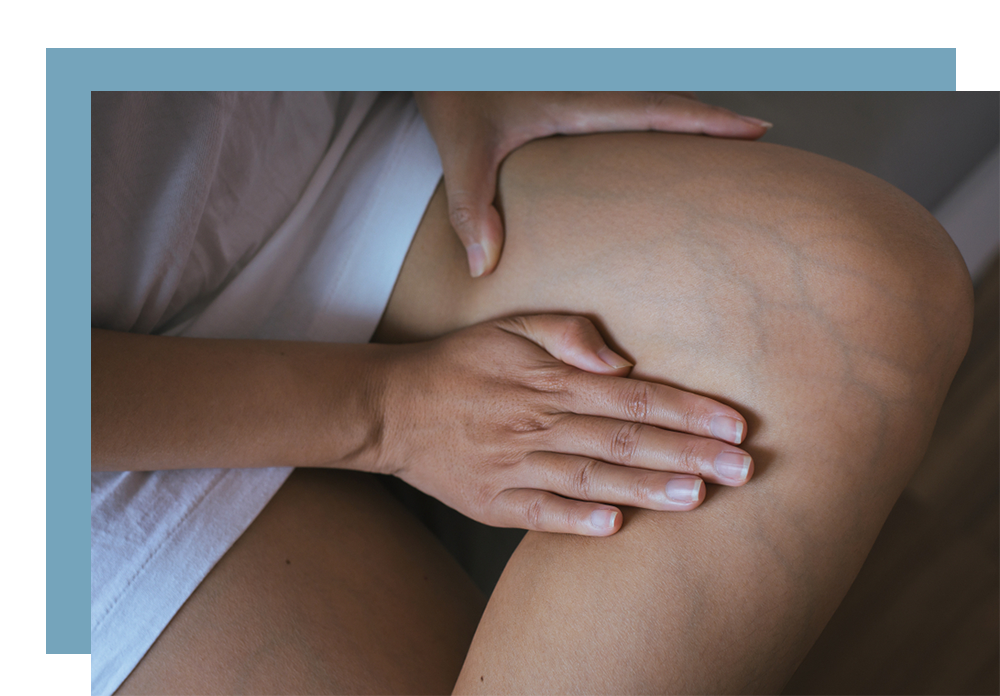 Varicose veins are swollen, twisted veins that occur when blood can no longer transport effectively from your legs back to your heart. If you are struggling with varicose veins, Dr. Mark Schwartz, MD, FACS, RPVI, of North Shore Vein Center in New Hyde Park, New York, offers the most advanced treatments for removing these unsightly veins. If you would like to find out more, call the North Shore Vein Center today (516-869-8346). Most treatment options are simple, non-invasive, and covered by most major insurance plans.
What are varicose veins?
Varicose veins are enlarged, tangled veins that reside near or raised above the surface of your skin. They are often blue in color and can be a sign of an underlying problem with your circulation called venous insufficiency.
When a healthy vein carries blood back to the heart, it is pushed through one-way valves that direct the flow of blood upward and inward. Blood collects in the small, superficial veins and then passes into larger ones. Eventually, the blood flows into deeper veins, reaching your heart and lungs. But if these valves fail to function correctly, they will allow the blood to travel the wrong way down your leg, pooling and distending the branches of the veins under your skin. Over time, these veins begin to stretch, bulge and become more visible. These are varicose veins.
While it may sound concerning that varicose veins are caused by blood flowing the wrong way, 99% of all blood volume travels in your deep venous system, and in the other normal channels, so any varicose veins you have aren't affecting your overall circulation.
Nearly 30% of the population in the United States (70% female and 30% male) suffer from varicose veins, so you are not alone. If you would like to discover what treatment options are available to you, call the North Shore Vein Center today.
What are the symptoms of Varicose Veins?
If you have varicose veins, you might have experienced:
Aching
Fatigue
Heaviness
Burning
Throbbing
Itching
Cramping
Ankle Swelling
Ulceration
Varicose veins are worsened by obesity, prolonged sitting/standing, family history, pregnancy, and hormonal influences. If left untreated, they can eventually lead to skin discoloration, eczema-type symptoms, chronic leg swelling, skin thickening, and even ulcers that are painful and hard to treat. Varicose veins are considered progressive, meaning that they often get worse over time. That is why scheduling treatment early is an important part of getting you back to feeling your best.
How are Varicose Veins Treated?
Previously, patients had to go to a hospital for a painful varicose vein stripping procedure, but Dr. Schwartz at North Shore Vein Center provides the most advanced, up to date, in-office treatment under local anesthesia, and with little to no discomfort.
Treatments include:
Endovenous Closure
An excellent alternative to vein stripping, Dr. Schwartz administers local anesthesia and inserts a laser fiber into the diseased vein, which heats the inside of the vein and seals it shut. There is no longer any need to remove these veins with incisions and hospitalization.
This 45-minute procedure provides the most comfortable treatment available, with rapid symptom relief, no downtime, and minimal bruising.
Ambulatory Phlebectomy
Commonly known as "hook" phlebectomy, this procedure involves making very small incisions to micro-extract bulging varicose veins. These mini-incisions usually heal without any scarring.
To carry out ambulatory phlebectomy, Dr. Schwartz usually takes 30-60 minutes in the office under local anesthesia. It requires little to no time off work, but that you wear a compression stocking immediately after the procedure.
Foam Sclerotherapy
In a traditional sclerotherapy, Dr. Schwartz injects your veins with a special liquid, which causes them to collapse and fade from view. In foam sclerotherapy, the solution is mixed with air or another type of gas using mechanical pumps, to give the solution more surface area, making it more successful in eliminating the vein and sealing off blood flow.
Ultrasound-Guided Sclerotherapy
In order to remove varicose veins that are slightly deeper beneath the surface of the skin, Dr. Schwartz injects an FDA-approved medication into the diseased veins. In order to ensure that the drug is placed accurately into the vein, Dr. Schwartz uses ultrasound technology to guide the placement.
This procedure requires no anesthesia or sedation, and you can return to work immediately.
Conservative Therapy
The most conservative treatment of varicose veins are prescription-strength compression stockings. If worn on a daily basis, compression stockings help ease the symptoms of varicose veins, but they do nothing to address the disease itself.
Varicose veins can be uncomfortable and embarrassing, and the longer they are left untreated, can cause serious health issues. Dr. Schwartz, MD, FACS, RPVI, of North Shore Vein Center in New Hyde Park, New York is here to help you get back on your feet, and to love your legs again. If you have been suffering with unsightly varicose veins and want to find out more about the latest approaches to varicose vein treatment and our other services, give the North Shore Vein Center a call today.