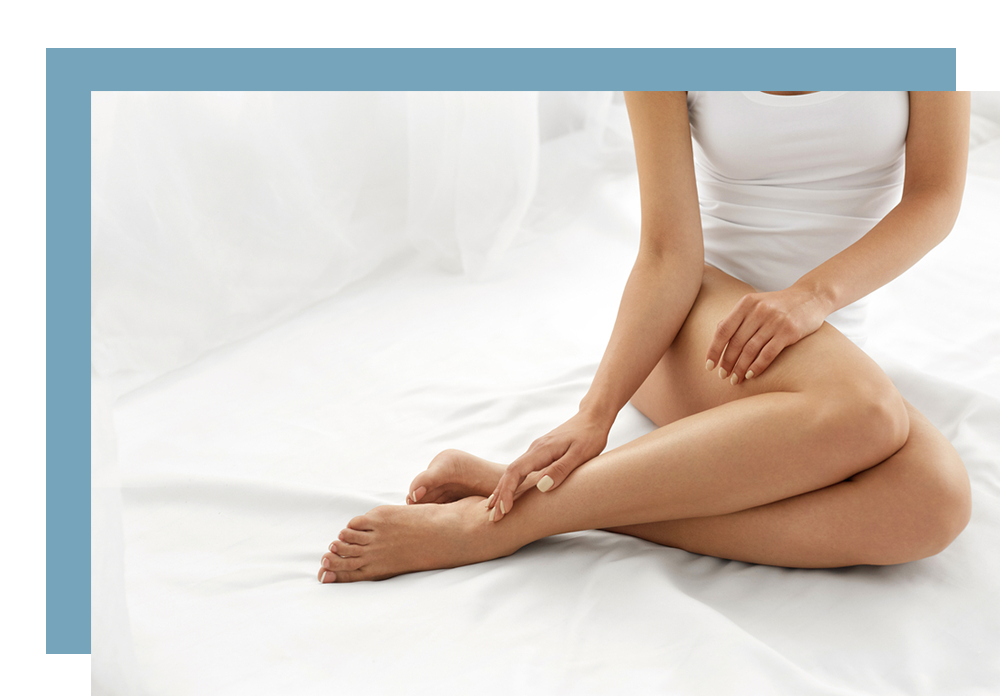 Varicose veins can be more than just a cosmetic issue. They can cause pain and heaviness and can lead to more serious health concerns. In the past, varicose veins were treated by a painful procedure called vein stripping, but Dr. Schwartz at the North Shore Vein Center provides an excellent and mostly painless alternative called endovenous laser ablation.
What Is Endovenous Laser Ablation?
Endovenous laser ablation is an alternative to old-fashioned vein stripping and other laser varicose vein treatments. A minimally invasive procedure, it uses the application of heat to seal abnormal veins. Endovenous laser ablation is used to treat chronic venous insufficiency, swollen legs, and varicose veins.
How Does It Work?
Dr. Schwartz administers local anesthesia and inserts a laser fiber into the affected vein. The micro-pulsing laser tip heats the vein interior, which triggers it to seal shut. Using ultrasound imaging, Dr. Schwartz monitors the laser fiber to ensure optimal placement and success. The blood is then rerouted to healthy veins nearby.
Who Is a Candidate for Endovenous Laser Ablation?
Varicose veins can be potentially serious and debilitating, and treatments like endovenous laser ablation can help treat their symptoms. You might be a candidate for endovenous laser ablation if you are experiencing any of the following:
Have bulging, discolored veins
Are dealing with large varicose veins and their symptoms
Have ulcers due to varicose veins
Suffer from restless leg syndrome
Have failed to find relief with compression stockings
Haven't been prescribed an anticoagulant and don't currently have any infections or illnesses
Are not pregnant
What to Expect from Endovenous Laser Ablation
Endovenous laser ablation only takes about an hour, and most patients can resume normal activities by the next day. Within one week, patients may start to see a difference in the visibility of their varicose veins, but complete results may take several months.
Endovenous laser ablation is superior to older varicose vein treatments like vein stripping in several important ways. The benefits of endovenous laser ablation include the following:
More comfortable – Endovenous laser ablation is considerably more comfortable than vein stripping, and it's also more comfortable than traditional laser treatments because the laser does not harm the tissue around your vein in any way. It's the most comfortable laser varicose vein removal option available today, and most patients say it's virtually painless.
More convenient – Vein stripping typically takes place in a hospital setting, but Dr. Schwartz performs endovenous laser ablation at the comfortable and convenient North Shore Vein Center facility.
Minimal downtime – There's minimal downtime with endovenous laser ablation. You can schedule your treatment and resume your usual routine
by the next day. You can resume strenuous activity in a few days.
Less bruising – Endovenous laser ablation causes less bruising than other vein removal methods and you'll have little to no scarring afterward.
A great success rate – Endovenous laser ablation has a 98-100% success rating. Patient's love their results!
All around, endovenous laser ablation is the most comfortable, effective, and convenient laser treatment for varicose veins today.
Post-Procedure Care
After the procedure, you will wear light compression stockings daily for the next 7 days. You may return to normal activities as tolerated by the next day. As soon as the treatment is over, you will experience varicose vein symptom relief.
You will have a follow-up appointment at North Shore Vein Center a week after your treatment, so Dr. Schwartz can assess results.
Why Choose North Shore Vein Center?
North Shore Vein Center has been granted accreditation by the Intersocietal Accreditation Commission (IAC) in superficial venous treatment and management. IAC accreditation is a "seal of approval" that patients can rely on, proving that North Shore Vein Center's processes and procedures have been carefully evaluated by medical experts in the field of superficial venous disorders. IAC accreditation is widely respected within the medical community ensuring that patients will receive excellent quality vein care.
To learn more about painless varicose vein treatment with endovenous laser ablation, schedule an appointment at North Shore Vein Center today.